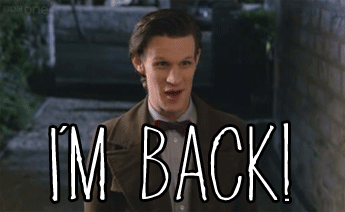 So…it's kind of been awhile. 
… And by awhile, I mean six weeks.
I'm really sorry I left it so long. See, I've been balancing two new jobs since March, and between that and finishing up some classes at NYU, I honestly haven't been able to scrounge up the energy to finish a single article. But I'm her to officially say I'm back and ready to write again, so expect a new post this Tuesday! 
.
Additionally, some exciting related news –
.
I am also on Twitter, though admittedly I'm not on this platform quite as much. But feel free to engage me on this platform, I'll be sharing some quips, quotes, and fun links.
.
Finally, as mentioned, I am currently holding two jobs related to books. One of these is as Children's Editor on Riffle, which is a visually-based book site that helps you read more books by connecting you with avid readers and books you'll love. That books list I shared in this post was actually part of my application! 
.
I'm mostly covering children's books up to middle grade, but I also share some more general book related stuff on the Riffle Discussions pages and on the Riffle Childrens tumblr page. I'll be reviewing books, responding to other people's reviews, and creating and recommending more awesome booklists. So, check out the site, view and share some booklists, and if you end up joining, make sure to follow me! 
.
For your convenience:
.
(PS – If you're already on Goodreads, Riffle has a Goodreads export button to make things easier 😉 )
.
Okay, that's enough announcements for now. And, as compensation for missing so many weeks, here are some extra special Avengers parody videos I hope you'll enjoy. Thank you for your patience and continued support, can't wait to get back up and rolling!
.
 .